The SN-Voice Project: The SN-Voice PCB
Get an absolutely top quality PCB for your very own Thomas Henry/Scott Stites SN-Voice!
As Seen On electro-music

Bill Manganaro of sMs Audio Electronics designed a PCB for the SN-Voice, and ordered a run of 50 of them. Those 50 boards were *gone* in a matter of days. Who'd-a-thunk there were that many SN76477s out there, begging to be released from their stockbin drawers? This rapid turnaround of boards owes thanks in no small part to the high quality of Bill's layout, the quality of his service, and the quality of the boards themselves. I have one, and I have to tell you, these are *extremely high quality* PCBs. This measly picture is just a hint - click on it for the full high quality holy-cow factor.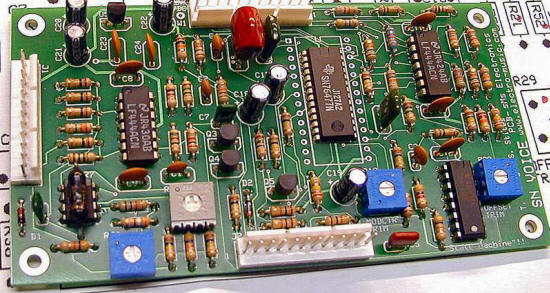 This board accomodates both the classic fat 'cockroach' SN76477, and its newer, skinny incarnation (pictured above) - there's no worry about which version you have, both fit just fine.
Bill's had requests for another run, so if you want to join the SN-Voice Retrolution, contact him via the link below:
Bill Manganaro at sMs Audio Electronics
And don't forget to visit Electro-Music.Com, the best damn Electronic Music forum on the web. Click the Electro-Music logo above to go straight to the SN-Voice Board scoop.